ASC Newsletter
In this issue #16-01:
ASC Takes Information Security Seriously
To ensure the security of your sensitive client information, we ask that ALL Support requests come via this *Secure* CSC Client Support Center web page, where data is encrypted when transferred. This is particularly important when sending us portable copies of plans. Email transmissions are not as secure, so we ask that you avoid sending emails directly to Support or an individual on the Support team. In addition, emails are not automatically logged and tracked in our database. The database is used to monitor turnaround times and assure our service standards are being met. We also use the information to monitor trends in requests for programming enhancements. We strongly recommend that portable copies of cases, as well as reports, use the option to create them with masked or blank SSNs. We do not want or need the SSN except in requests that involve an import of outside data to an ASC case where SSN is used as the Index.
ASC's (DGEM) System – Best Practices for user logins
We encourage DGEM clients to create individual login(s) with selected permissions for staff versus allowing everyone to use the Master Administrator level login credentials. This practice enables you to not only track changes to document and forms but provides ASC's support and development teams important information needed to troubleshoot or track activity in your database. Also, in the event you have a change in staff – you may create, change or disable a single user's access without affecting the entire team. As a reminder; passwords must consist of a minimum of eight (8) characters, with at least one upper case letter and one number. These same individual login credentials can be used for both DGEM Plan Docs/5500 and CATTS access. Individual login(s) and permissions are created and managed via the "Admin" tab found at the bottom of your screen. Please contact
Support@asc-net.com
should you need assistance.
PPA DC Restatement Deadline Rapidly Approaching!
Have you completed all of the PPA restatements for your clients who use your pre-approved defined contribution plans? April 30, 2016 is just around the corner and is the deadline for employers to restate their pre-approved EGTRRA 401(k), profit-sharing or money purchase plans onto the updated PPA versions. Employers who miss the deadline will need to correct the "non-amender" failure under the IRS' EPCRS program. Some employers currently maintaining defined contribution plans using the individually designed plans (IDP) format and who wish to switch to a pre-approved plan document have an extended deadline of April 30, 2017. The IRS has extended the deadline for IDPs to facilitate a plan sponsor's ability to convert an existing individually designed plan into a current defined contribution pre-approved plan. Employers switching from an IDP to a pre-approved plan should complete an IRS Form 8905 Certification of Intent To Adopt a Pre-Approved Plan (which can be found on the DGEM Download page) before the close of their current five-year remedial amendment period. See Notice 2016-3 for the specific applicable rules. If you have not yet discovered the benefits of using ASC's retirement plan documents and its DGEM system, it is not too late to sign up. Contact
Sales@asc-net.com
to learn how you can switch from your current document provider to ASC!
ASC Training Resources & Options
Whether you're a seasoned user or new to ASC – ASC offers multiple system training resources to keep you and your staff up to speed on ASC systems functions and enhancements! In addition to the comprehensive and easy to read system Help Manuals and release notes, ASC's Client Support Center (CSC) provides an extensive library of training videos and FAQs.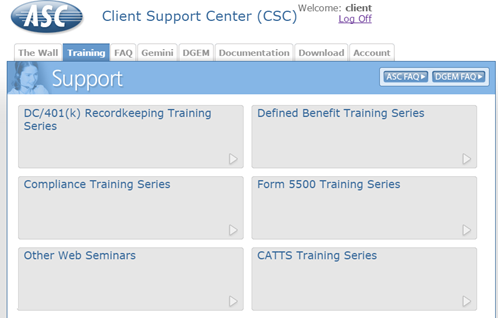 ASCs Top Notch Support team also conducts FREE Training webinars throughout the year on specific systems and features such as "Top 10 Tips" or "Multiple Employer Compliance Testing in ASC". Click for a list of recent webinars and to sign up for the 2016 schedule!
https://www.asc-net.com/free-webcast-schedule/
. Don't worry if you miss one or want a refresher – these webinars are recorded and made available on the CSC under the "Other Web Seminars" category. Need guidance on where to start with new staff? Download a copy of the Systems Training Guides from the CSC "Documentation" tab or contact
Support@asc-net.com
for a copy. We encourage our users to contact ASC Support directly as well. ASC Support is available from 8am to 8pm EST Monday through Friday and can be best reached by submitting your question to "The Wall" via the CSC. You may also reach Support via email
Support@asc-net.com
or phone (800) 950-2082 ext. 2. ASC also offers customized online and onsite training during the summer and fall to accommodate your firm's specific training needs. If you are considering these options – NOW is the time to schedule! Contact
Sales@asc-net.com
for a quote.
Get to Know ASC's Accounting Staff: Meet Meg Hu
Q: What do you enjoy most about working for ASC?
A:
ASC is like a big family, because everyone cares.
Q: What has surprised you most about working for ASC?
A:
To be honest, I didn't think I would fit in so quickly. I was born and raised in China. English is not my first language, and I also needed to cope with the culture differences from time to time. However, everyone at ASC was so nice to me, which made me feel at home.
Q: What qualities in your co-workers do you appreciate most?
A:
We always communicate well. They are all very professional, dependable and organized.
Q: What do you enjoy most about the Accounting department?
A:
After years with ASC, I am still learning.
Q: Why did you choose this career?
A:
After graduating with an accounting degree, I decided to continue down that path and eventually grew to love my career choice.
Q: What are the main skills that you put to use on a daily basis in your job?
A:
Communication, organization and prioritizing my "to-do" list.
Q: What lesson have you learned on the job that you still keep with you today?
A:
The faintest ink is better than the best memory.
Q: What's the one accomplishment you're most proud of? Why?
A:
: I took over the billing part of the job when ASC was still adapting to electronic billing. I went in with very limited knowledge and with the help of our team members I was able to create a more efficient billing process. I am still working to perfect this process.
Q: Do you have a role model? Who is it and why?
A:
My parents are my role models. They always try their best in everything they do, and I admire that quality.
Q: If you retired today, what would you do next?
A:
Travel around the world while I still can.
Q: What might (someone) be surprised to know about you?
A:
My legal name is Fan, but I have been using Meg for many years.