Tap into the Power of an ASC CRMW
ASC offers two robust CRMW solutions to enable your business to operate at peak efficiency.
CATTS (Client & Task Management System), a web-based system, and PensionPal, a premise-based system, are designed to keep all of your data organized and easily accessible. Both solutions are integrated with ASC's DGEM (Document Generation & Management) document system, providing real-time data flow to the CRMWs.
Both enable you and your staff to increase your productivity, access to workflow status and security, whether everyone works in a central office or are spread out in many locations. In tenuous times such as these, it is crucial to be able to manage your team from anywhere, with your information housed in a central location, and ASC provides you with that stability.
CATTS (Client & Task Tracking System)
Connects managers and team members to real-time client information, plan features, 5500 filings, alerts and events
Create work-flow tasks and reports to electronically deliver staff directives, with deadline status visibility
Ad hoc tasks may be assigned for instant communication
Individually assigned logins link each user to a personal home page
Deliver plan sponsor communications and DGEM documents with Mail Merge
Log client and participant correspondence with CATTS Outlook integration
Other features include robust reports, time tracking, contact and employee database options, and Gemini web portal integration
Perfect for tracking restatements and ongoing document amendments
PensionPal
Customizable workflows, dashboards, sales tracking, task management, and integration with other doc and admin systems
Define team member roles, set permissions and passwords
Robust reporting feature including an option for automated reports
Efficiently track payout processes
Log client and participant correspondence with PensionPal's Outlook integration
Built-in IM messaging system so team members can connect in the system
Time tracking and billing feature generates invoices in PensionPal and can be linked to select accounting systems
The PensionPal Web Portal option provides the ability to exchange data securely and completion of onboarding and annual year end data collection online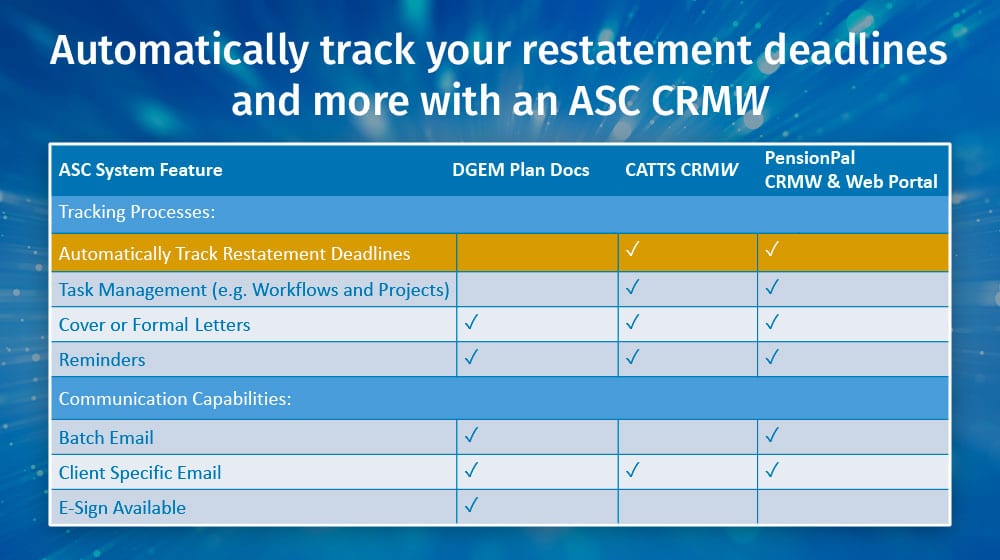 For more information regarding our CATTS and PensionPal systems contact us at sales@asc-net.com or support@asc-net.com. We wish you continued success and we remain committed to providing you with highly efficient software and support at all times.