Remove the Burden of Plan Document
Restatement Tracking
Missing a Plan Document Restatement can be a costly mistake. And now with the expanded IRS pre-approved document overlapping cycles, it's even harder to keep track of plan restatements.
Avoid the stress and worry! As an ASC Plan Document Client, you can easily and quickly begin tracking your restatements by adding ASC's Client & Task Tracking System (CATTS) to your existing Document Generation & Management (DGEM) – Plan Document License TODAY.
CATTS helps manage your restatements from beginning to end. Here's how:
Real-time client and DGEM plan document data is automatically populated with your CATTS license activation for simplified system setup and ongoing maintenance.
Restatement deadlines are objectively confusing! CATTS robust reporting feature allows you to track deadlines across plan types from day one. Restatement-related tasks can be linked/synced between systems – yet are easy to customize to your operational and staff structure.
As you can see in the charts below, the DC and DB/CB Cycle 3 restatement timelines overlap. CATTS simplifies this tracking for you, reducing your risk of missing a deadline which could entail paying a fee and undergoing a time-consuming formal IRS VCP submission.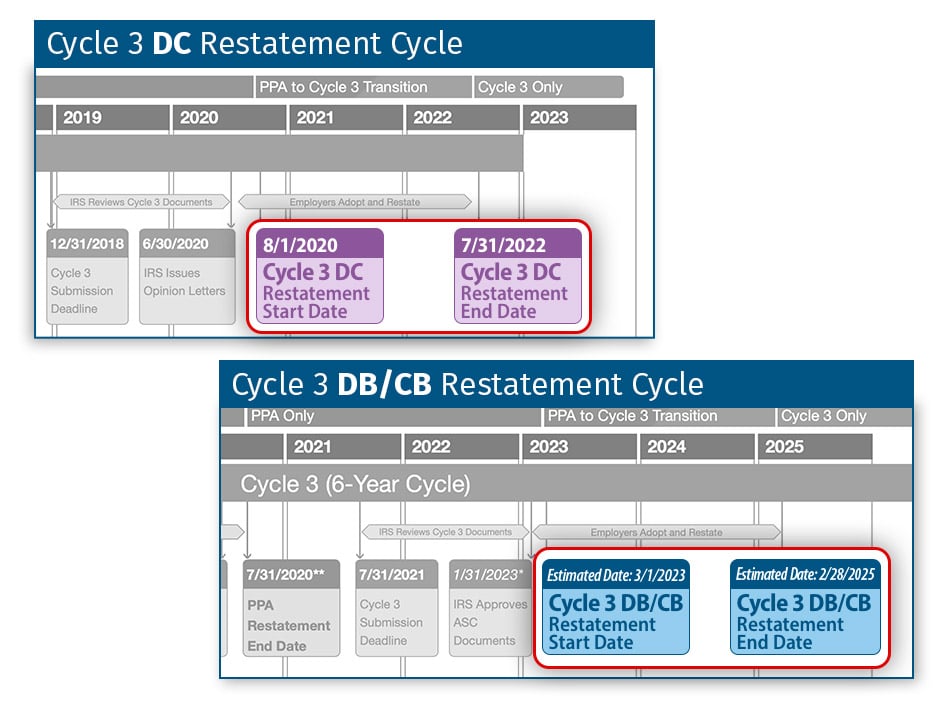 CATTS easily identifies the plans that need to be restated.
CATTS monitors and tracks the plan document status, from draft all the way through to plan sponsor signature.
And more!
Why wait?! You can remove the burden of restatement tracking from your shoulders by automating with CATTS TODAY.
CALL 800-950-2082 x1 for more detailed information about CATTS.